Ocean Springs, AL. A grandmother made me rethink all the bio-remediation hype. The "naturally-occurring oil-eating bacteria" have been newsworthy of late as they are supposedly going to come to the rescue of President Obama and BP and make good on their very premature statement that "the oil is gone."
We were talking about subsurface oil in the Gulf when she said matter-of-factly, "The bacteria are running amok with the dispersants." What? "Those oil-eating bacteria - I think they're running amok and causing skin rashes." My mind reeled. Could we all have missed something so simple?
The idea was crazy but, in the context of the Gulf situation - an outbreak of mysterious persistent rashes from southern Louisiana across to just north of Tampa, Florida, coincident with BP's oil and chemical release, it seemed suddenly worthy of investigating.
I first heard about the rash from Sheri Allen in Mobile, Alabama. Allen wrote of red welts and blisters on her legs after "splashing and wading on the shoreline" of Mobile Bay with her two dogs on May 8. She reported that "hundreds of dead fish" washed up on the same beach over the following two days. This was much too early for the summer sun to have warmed the water to the point of oxygen depletion, but not too early for dispersants and dispersed oil to be mixed into the Gulf's water mass. By early July, Allen's rash had healed, leaving black bruises and scarring.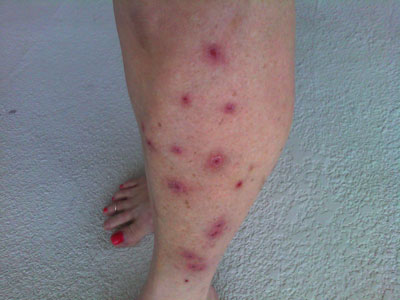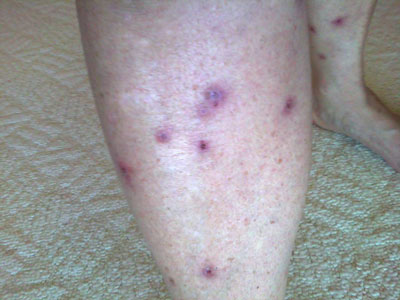 Other people - both residents and visitors to the Gulf coast - wrote of similar rashes or other skin problems like peeling palms. The rashes have been diagnosed as scabies and staph infections, including MRSA, the potentially lethal Methicillin-resistant Staphylococcus aureus bacteria. Most cases lingered for months, as the rash did not respond well to antibiotics, steroid creams, or steroid shots.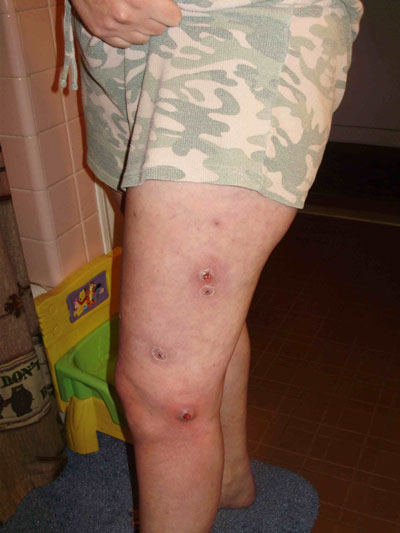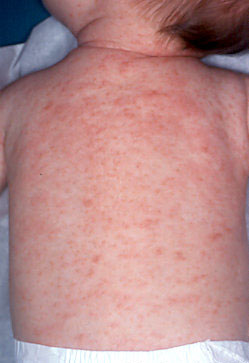 That should have been a clue that maybe the primary cause was not biological, but chemical. A secondary biological infection might clear up with antibiotic treatment, but then keep reoccurring because the primary chemical illness had not been treated.
Retired Registered Nurse Allison Schmidt agrees. Referring to Allen's case, she said, "I can say without hesitation that these skin rashes have nothing to do with scabies. Scabies is a parasite, which causes a skin infection and is extremely contagious. It spreads from person to person by direct skin contact or by wearing an article of clothing worn by an infected person." Schmidt said, "If this were scabies you would see entire families infected and NOT just a single family member."
Another clue to the real cause of the mystery rash is its prevalence across the entire oil-impacted Gulf. Something in the water or air, or both, could explain this. While public officials and BP claim that dispersant use was halted in May for Corexit 9527A and on July 19 for Corexit 9500A, evidence collected by Gulf residents has shown that dispersants are being used in nearshore and inland waters, close to highly populated areas across the Gulf. Further, oil and the Corexit marker have been found in air and inland water.
I have heard from Gulf residents and visitors who developed a rash or peeling palms from contact with Gulf water, including such activities as swimming or wading, getting splashed, handling oiled material or dead animals without gloves, and shucking crabs from the recently opened Gulf fisheries. I have also heard from people who developed the same symptoms after contact with Gulf air by wiping an oily film off their airplane's leading edges after flying over the Gulf (absorbent pad tested positive for oil) or swimming in outdoor pools, or splashing in puddles, after it rained.
Outraged by the unprecedented release of oil and toxic chemicals in the Gulf, Nurse Schmidt and Mike McDowell developed a project to test Gulf rainwater for harmful chemicals.  Schmidt said, "We are convinced the chemicals used in the Gulf to help disperse oil have evaporated and will eventually come down mixed with the rain." 

READ MORE AT THE LINK:
http://www.huffingtonpost.com/riki-ott/bio-remediation-or-bio-ha_b_720461.html