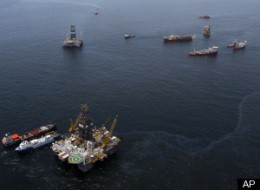 NEW ORLEANS (Associated Press))- A federal official said Sunday that scientists are concerned about a seep and possible methane seen near BP's busted oil well in the Gulf of Mexico.
Both could be signs there are leaks in the well that's been capped off for three days.
The official spoke to The Associated Press on condition of anonymity Sunday because an announcement about the next steps had not yet been made.
The official is familiar with the spill oversight but would not clarify what is seeping near the well. The official said BP is not complying with the government's demand for more monitoring. BP spokesman Mark Salt declined to comment on the allegation, but said "we continue to work very closely with all government scientists on this."
http://www.huffingtonpost.com/2010/07/18/gulf-oil-seep-methane-sus_n_650531.html
My comment to this? BP will try to do ANYTHING to COLLECT the oil, their bottom line is the only thing considered in their decision making from what I can see!
Read the Article at HuffingtonPost