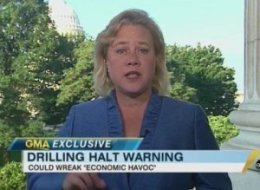 I think that this is very irresponsible leadership and very screwed up comments and she needs to put on a HAZMAT suit and help with the cleanup including sucking up the oil and bathing the wildlfe. When the cleanup is done, then she needs to go to the nearest hospital and/or nursing home and help the elders and the sick with their breathing treatments. Our leaders need to know how the rest of us live. The fact that she made all of this money from the industry means she and her family profited from this and it is in her best interest to get the rigs operational again...PU
RE GREED! We need to vote every single representative that took money from BIG OIL right out of office. 3700 rigs in the Gulf of Mexico is just insane. I think our leaders want to kill the Gulf and everything in it so they can keep on drilling and killing...
nothing surprises me anymore!
Read the Article at HuffingtonPost
See how much she made from BIG OIL right here:
http://www.opensecrets.org/politicians/summary.php?CID=N00005395