Along the Gulf Coast, the marketing blitz for spring break is rolling out as the oil from the BP blowout 11 months ago continues to roll in along with increasing numbers of dead infant dolphins, in numbers completely without precedent. The beaches remain polluted with toxic oil and dispersant even as local politicians and government officials insist everything is fine and the oil miraculously gone. Thousands of pounds are collected each day from the few areas that remain under scrutiny, all of those being in highly visible resort areas. In one zone on Ft. Morgan beach in Alabama, a record 17,000 lbs was collected in one day after a winter storm rolled through. Along the beaches of Alabama in areas not frequented by media or guests, dead infant dolphins are left uncollected in the sand. Current plans by mayors of resort communities along the Gulf Coast will have thousands of vacationers, including at-risk populations, once again making sandcastles and sunbathing on toxic, polluted beaches.
BP continues to shut down the few cleanup efforts still underway with the approval of the federal government. At the Gulf Coast Ecosystem Restoration Task Force meeting in New Orleans recently, scientists, NGO's, and concerned citizens demanded to know how the ecosystem could be restored when the basic cleanup of the oil has been made impossible by any known technology after the dispersant sank it to the ocean floor. Health concerns remained at the forefront of dialogue as a new report by the Louisiana Bucket Brigade finds that nearly 50 percent of the population along the Gulf Coast is experiencing sickness indicative of chemical poisoning related to the BP oil spill. The CDC assertions in a brochure distributed at the meeting that the levels of chemical exposure related to the spill are not a cause for concern was ridiculed and an embarrassment to many of the officials present.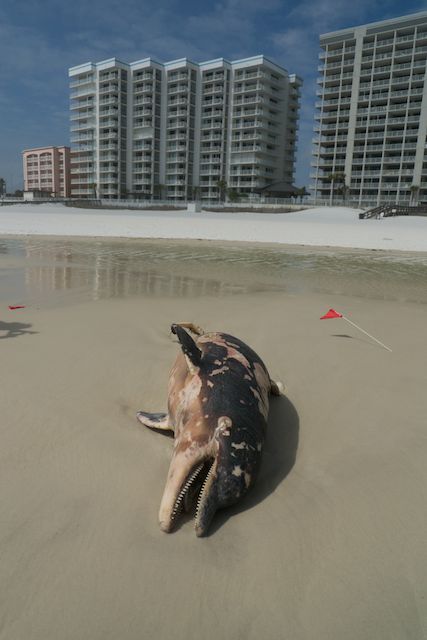 Orange Beach, Alabama, March 3, 2011
Government data collected during the oil spill last summer, which is now being released by one of the scientists on the NASA team, strengthens claims that oil and dispersant was brought onshore in rain during the spill. The Chief Mission Coordinating Scientist on the NASA remote sensing mission to the BP oil spill in the Gulf Of Mexico was 
Ira Leifer, Ph.D
 from 
University of California Santa Barbara
. Dr. Leifer has been working with natural oil spills and natural methane bubble flows for the last decade. He is in the process of releasing some of the government data collected during the spill; the vast majority of this data has been suppressed and is not available to scientists, the media, or the general public. The data was collected on boats at the sea surface, in airplanes over the Gulf, and by satellite.